By Olivia Walsh
So little Lexi's birthday is coming up and you want to surprise her with a great birthday party! We can help make the planning easier by showing you the places to celebrate the best birthday parties in Edmonton. Your kid is gonna have so much fun as they hang out with their best friends at the party!
For this list, we asked both parents and their tots for recommendations and opinions. The ones we rounded up have to be the best for birthday parties in Edmonton. Take a look at our picks!
1.  Hide N' Seek Playground Cafe
First in our list of the places that offer the best birthday parties in Edmonton is Hide N' Seek Playground.
It's a place where kids can play, as their facilities have play areas for kids of different ages, as well as arcades where you can win prizes. They also have rooms for birthday parties and offer different packages to your liking.
Their services are guaranteed to make your parties easier to plan and prepare. That's why people often refer to them when arranging the best birthday parties in Edmonton.
Highlights
Packages available
Adult lounge available
Cafeteria available
2.  Feel Fabulous Mobile Spa
If your kid is the type that likes fabulous spa getaways and cute nail art, Feel Fabulous offers a one-of-a-kind party. They have packages that kids who are into makeup and nails can enjoy.
With differently priced packages to fit your budget, they're some of the most sought-out planners of the best birthday parties in Edmonton. If you need to throw together a party for your kid, they're just one call away.
Highlights
Spa services
Different packages for budgets
Teen parties available
3.  Escape Emporium
If your kid is one of those children who enjoy a more interactive activity for the mind, Escape Emporium can be a great alternative to a traditional birthday party. The game offered here is for teams of 2 to 8 people and for all ages 8 and older.
They solve a mystery during the game, so you can have time to prepare the snacks for when they're done. Escape Emporium has 4 different games that the kids can enjoy by theme as well.
This unique way of keeping the kids entertained is what makes them one of the places for the best birthday parties in Edmonton.
Highlights
Interactive game rooms
Teams of 2-8 people can join
Great value and quality
4.  Treehouse Edmonton South
Treehouse South Edmonton can take groups of about 10 or more people. They also have party packages with free downloadable invitations.
They have a promo for weekday parties, as they're 20% off from Monday to Thursday excluding holidays. With a multitude of play areas, crafting areas, game zones, and arcades, your kids will have lots of activities for their party.
The venue's great attractions and activities make it one of the places that can host the best birthday parties in Edmonton.
Highlights
Weekday party discount
Several playrooms
Free downloadable invitations
5.  Combat Archery Edmonton
Combat Archery doesn't just offer archery games for birthday parties, they also offer Nerf Wars and Blacklight dodgeball. You can book a game for a small group or large group, or book the entire place for a private event.
They also have 2 party rooms that can be combined into a large room, as well as a kitchenette. You can access these areas when you book the place for a party of a group.
Adults can also join in the fun since they have dodgeball sessions and combat archery recreational leagues especially for them. That makes this one of the places that throw the best birthday parties in Edmonton.
Highlights
Kitchenette available
Dodgeball and Nerf available
Large spaces
6. Joe Show Online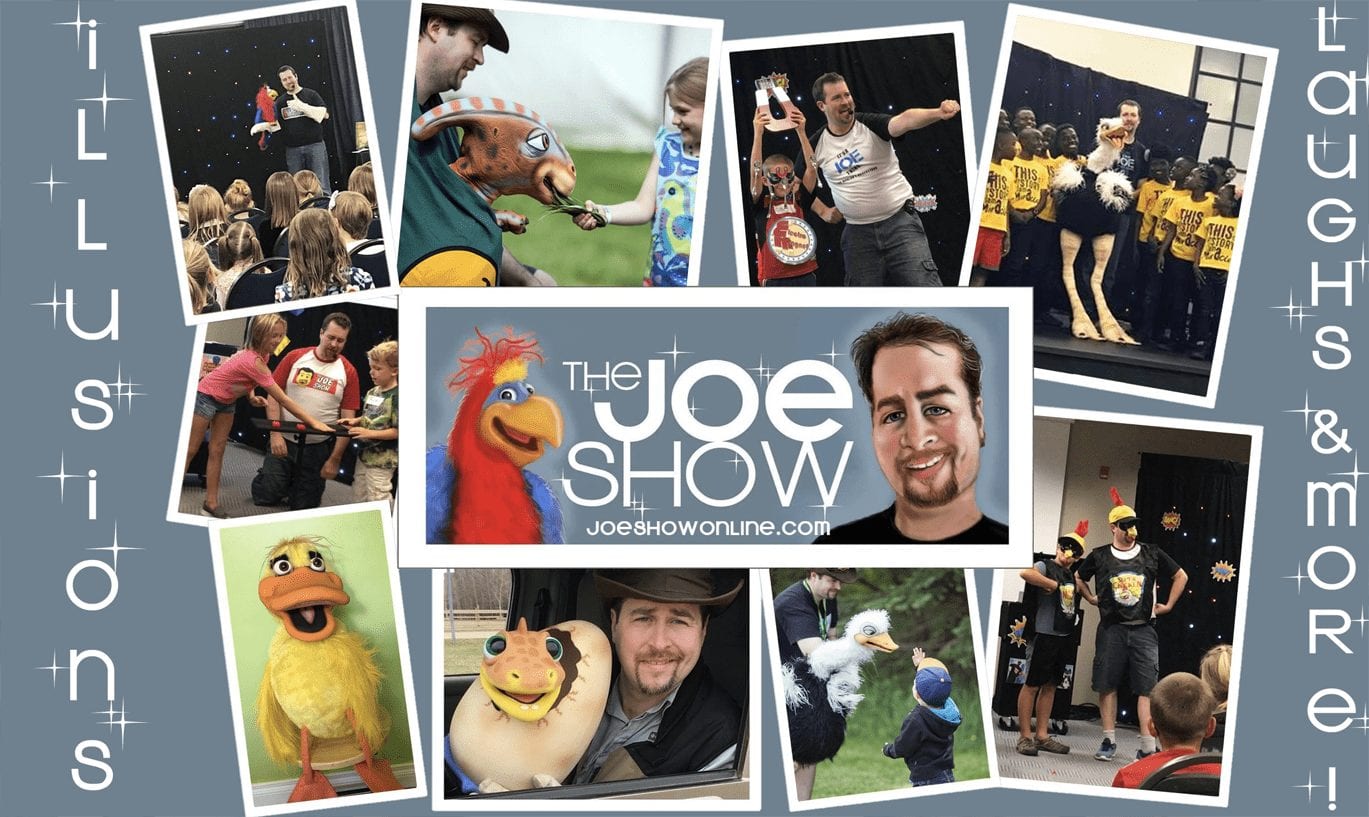 As a full time performer Joe does over 200 shows a year, has the highest google rating of children entertainers in Edmonton and is one of the handful of ventriloquists in western Canada. Joe has mastered the art of entertaining with his show called The Joe Show. Joe uses Ventriloquism, Magic, and comedy that will have your family howling with laughter. His shows are good for all ages, promising to provide great entertainment that can keep the party going.
A few of the add on services he provides are face painting and balloon twisting done by his family. He also provides themed shows such has Jungle, Lego, Space, Princess, and Superhero to name a few, and has a social distancing show that is perfect for the backyard.
Having been featured in national tv multiple times, he's sure to make any celebration memorable.
Highlights
Comedy, Ventriloquism, and Magic Shows
Face Painting, Balloon Twisting
Themed Parties
7. Glow Yoga Kids
Edmonton and area parents, are you looking for a unique and super fun way to celebrate your child's special day? Let the birthday boy or girl shine like a star with their very own personalized yoga celebration!
Your 1 hour party at Glow Yoga Kids includes 45 minutes of Rainbow style yoga games, creative movement, music, dancing, breathing exercises, fun yoga poses, and relaxation for up to 12 children (all tailored to your child's party theme). On top of this, children will also spend 15 minutes creating a collaborative piece of art as a gift for the birthday child, or their very own masterpiece to take home. For virtual birthday packs, they will include 45 minutes of yoga with your kiddo and all their friends via zoom PLUS they will mail the birthday crafts to each home (at an additional cost) and walk you through it via video chat.
As always, they come to you! Host your child's yoga birthday in the comfort of your home, out in the yard, or at one of the many event facilities in Edmonton. For virtual parties, they will "come to you" online, wherever you may be. Yoga mats, props, art supplies, and music will all be provided to ensure a magical birthday celebration!
Highlights
Stress management
Improved concentration and self discipline
They can come to you or do it online
Includes yoga and crafts
8. Planit Events Inc.
Do you hate going store to store, or don't have the time to ensure you have all the themed decorations for your at home events? If so, let Planit Events Inc. help with a Décor Crate.
Décor Crate has all your themed decoration needs for your at home events and holidays such as birthdays, anniversaries, baby showers etc.
You will receive your custom curated Décor Crate, which has all your decoration needs, as well as a small box with items that you will keep and do not have to be returned. Don't worry a handy guide will be in the crate!
Once you are done with your event, simply package all the items that are to be returned back into the crate. Afterward, they will sanitize and clean all the decorations and have it ready to go for the next event.
Visit their website for more details, or to order your crate!
Highlights
Professional
Innovative
Budget conscious
9. A Charmed Affair
Princess, superheroes, mermaids, and more! A Charmed Affair's party packages are non-stop fun! Party activities range from sing and dance-a-longs, tea parties, parachute games, crafts, stories, superhero training, and more – all themed to your child's favourite character!
Their professional performers take all the pressure off of entertaining little guests, so you can sit back and enjoy the show! Contact them today to see how they can add a touch of magic to your next birthday party or special event!
Highlights
Virtual parties
Mermaid parties
Science parties
10. Bounceroo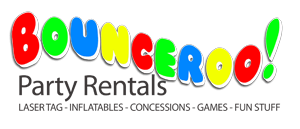 Bounceroo is a family based small business that offers a variety of party rental items and party entertainment. They have been serving Edmonton for over 15 years with friendly and professional service.
People prefer them because they have everything. They have inflatables or bouncers, obstacle courses, jumps, jumpy things, bouncy things, bouncy castles or moonwalks ever-growing selection of carnival games and interactive games for all ages, foam parties, Edmonton's only mobile laser tag, face painters and clowns, even ventriloquist acts, and stage shows.
One thing that they do in comparison to other companies is they take care of everything. From helping you plan your event and select the ideal rental items, to the delivery, set up and clean up!
Rest assure that you will rent only the best quality commercial grade inflatable bouncy castles, obstacle course, slides and more. All of their staff are thoroughly trained in their safety policies and procedure.
Highlights
Great customer service
Wide range of services
Perfect for any occasion
11. Enchanted Princess Parties
Enchanted Princess Parties has been in business since 2009. Over the years, they have built a reputation as the best known princess event company in the city.
In comparison to the other companies on this list, there are three main factors why people choose to contact them. Their performers, the costumes, and of course, reliability.
First, all their performers have the talent, passion, and several years of experience working with children. Unlike other proncess companies, their singing characters offer a range from classically trained sopranos to chart topping pop artists.
They are not your usual performers because put an extra effort to make sure that they invest on high-quality costumes and wigs to make it more realistic. Another reason why they stand out in Edmonton is because of their stage makeup where they ensure to look as close as possible to the storybook characters!
As the oldest princess company in the area, some of their staff has been working for them for over 8 years. You can put your trust on them in making your party extra special since they always provide consistent performances ever since they started.
People love them becasuse of their affordable packages that no other companies offer. Some of their packages are Princesses, Mascots, Spiderman, Batman, and so much more! Prices start from $125 + GST
Highlights
Affordable rates
40 plus princess characters to choose from
Specialize in corporate and special events
Responds quickly
Can do virtual parties
12. Sweet Gi's
BEST FOR 
Birthday parties and classes
PRODUCTS
Cupcakes, Cakes, DIY Cookie Kits, Holiday Treats, Father's Day and Teacher Gifts
WEBSITE
https://sweetgis.com/
ADDRESS
8405-24 Street NW Sherwood Park Edmonton, AB, Canada T6P 1L3
CONTACT DETAILS
+1 780-983-0256| 

[email protected]

OPERATING HOURS
Monday: 9:00 AM – 3:00 PM

Tuesday: 9:00 AM – 3:00 PM

Wednesday: 9:00 AM – 3:00 PM

Thursday: 9:00 AM – 3:00 PM

Friday: 9:00 AM – 3:00 PM

Saturday: 10:00 AM – 2:00 PM
Sweet Gi's is a baking shop that specializes in catering parties and other similar occasions as well. They are located in the Strathona County and accommodate custom cake orders and classes that will make an average party much more enjoyable.
Known for their high quality customer service, they are a small company but with a big heart for delivering only the best quality of cakes and interrelated service to their clients. They make sure to use only high quality ingredients along with exceptionally accommodating customer service in order to satisfy each customer they come across.
The shop also offers Parties and Cake Decorating Classes at their location which can now hold up to 14 students at a time. Furthermore, customers also have the option should they want to customize the cake to their liking and preferred flavor as well.
We recommend this baking shop for customers looking for a memorable party or experience with cakes and cupcakes as Sweet Gi's is sure to have a package that suits every party and individual need.
Highlights
Excellent customer service
Customizable cakes
Enjoyable and memorable cake decorating classes
Your kid's party will be a success when held at these places. That's because they throw the best birthday parties in Edmonton! You don't even have to worry about goodie bags or party hats when you're at one of these, because the entertainment is already covered!
Are there any great places that we missed, though? Send us a message and we'll update the article promptly.
Oh, and if you're here because you're looking for event planners, our list of the best event planners in Edmonton can probably help you out!