By Olivia Walsh
So little Lexi's birthday is coming up and you want to surprise her with a great birthday party! We can help make the planning easier by showing you the places to celebrate the best birthday parties in Edmonton. Your kid is gonna have so much fun as they hang out with their best friends at the party!
For this list, we asked both parents and their tots for recommendations and opinions. The ones we rounded up have to be the best for birthday parties in Edmonton. Take a look at our picks!
1.  Hide N' Seek Playground Cafe
First in our list of the places that offer the best birthday parties in Edmonton is Hide N' Seek Playground.
It's a place where kids can play, as their facilities have play areas for kids of different ages, as well as arcades where you can win prizes. They also have rooms for birthday parties and offer different packages to your liking.
Their services are guaranteed to make your parties easier to plan and prepare. That's why people often refer to them when arranging the best birthday parties in Edmonton.
Highlights
Packages available
Adult lounge available
Cafeteria available
2.  Feel Fabulous Mobile Spa
If your kid is the type that likes fabulous spa getaways and cute nail art, Feel Fabulous offers a one-of-a-kind party. They have packages that kids who are into makeup and nails can enjoy.
With differently priced packages to fit your budget, they're some of the most sought-out planners of the best birthday parties in Edmonton. If you need to throw together a party for your kid, they're just one call away.
Highlights
Spa services
Different packages for budgets
Teen parties available
3.  Escape Emporium
If your kid is one of those children who enjoy a more interactive activity for the mind, Escape Emporium can be a great alternative to a traditional birthday party. The game offered here is for teams of 2 to 8 people and for all ages 8 and older.
They solve a mystery during the game, so you can have time to prepare the snacks for when they're done. Escape Emporium has 4 different games that the kids can enjoy by theme as well.
This unique way of keeping the kids entertained is what makes them one of the places for the best birthday parties in Edmonton.
Highlights
Interactive game rooms
Teams of 2-8 people can join
Great value and quality
4.  Treehouse Edmonton South
Treehouse South Edmonton can take groups of about 10 or more people. They also have party packages with free downloadable invitations.
They have a promo for weekday parties, as they're 20% off from Monday to Thursday excluding holidays. With a multitude of play areas, crafting areas, game zones, and arcades, your kids will have lots of activities for their party.
The venue's great attractions and activities make it one of the places that can host the best birthday parties in Edmonton.
Highlights
Weekday party discount
Several playrooms
Free downloadable invitations
5.  Combat Archery Edmonton
Combat Archery doesn't just offer archery games for birthday parties, they also offer Nerf Wars and Blacklight dodgeball. You can book a game for a small group or large group, or book the entire place for a private event.
They also have 2 party rooms that can be combined into a large room, as well as a kitchenette. You can access these areas when you book the place for a party of a group.
Adults can also join in the fun since they have dodgeball sessions and combat archery recreational leagues especially for them. That makes this one of the places that throw the best birthday parties in Edmonton.
Highlights
Kitchenette available
Dodgeball and Nerf available
Large spaces
6. Glow Yoga Kids
Edmonton and area parents, are you looking for a unique and super fun way to celebrate your child's special day? Let the birthday boy or girl shine like a star with their very own personalized yoga celebration!
Your 1 hour party at Glow Yoga Kids includes 45 minutes of Rainbow style yoga games, creative movement, music, dancing, breathing exercises, fun yoga poses, and relaxation for up to 12 children (all tailored to your child's party theme). On top of this, children will also spend 15 minutes creating a collaborative piece of art as a gift for the birthday child, or their very own masterpiece to take home. For virtual birthday packs, they will include 45 minutes of yoga with your kiddo and all their friends via zoom PLUS they will mail the birthday crafts to each home (at an additional cost) and walk you through it via video chat.
As always, they come to you! Host your child's yoga birthday in the comfort of your home, out in the yard, or at one of the many event facilities in Edmonton. For virtual parties, they will "come to you" online, wherever you may be. Yoga mats, props, art supplies, and music will all be provided to ensure a magical birthday celebration!
Highlights
Stress management
Improved concentration and self discipline
They can come to you or do it online
Includes yoga and crafts
7. Planit Events Inc.
Do you hate going store to store, or don't have the time to ensure you have all the themed decorations for your at home events? If so, let Planit Events Inc. help with a Décor Crate.
Décor Crate has all your themed decoration needs for your at home events and holidays such as birthdays, anniversaries, baby showers etc.
You will receive your custom curated Décor Crate, which has all your decoration needs, as well as a small box with items that you will keep and do not have to be returned. Don't worry a handy guide will be in the crate!
Once you are done with your event, simply package all the items that are to be returned back into the crate. Afterward, they will sanitize and clean all the decorations and have it ready to go for the next event.
Visit their website for more details, or to order your crate!
Highlights
Professional
Innovative
Budget conscious
8. A Charmed Affair
Princess, superheroes, mermaids, and more! A Charmed Affair's party packages are non-stop fun! Party activities range from sing and dance-a-longs, tea parties, parachute games, crafts, stories, superhero training, and more – all themed to your child's favourite character!
Their professional performers take all the pressure off of entertaining little guests, so you can sit back and enjoy the show! Contact them today to see how they can add a touch of magic to your next birthday party or special event!
Highlights
Virtual parties
Mermaid parties
Science parties
9. Bounceroo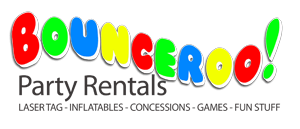 Bounceroo is a family based small business that offers a variety of party rental items and party entertainment. They have been serving Edmonton for over 15 years with friendly and professional service.
People prefer them because they have everything. They have inflatables or bouncers, obstacle courses, jumps, jumpy things, bouncy things, bouncy castles or moonwalks ever-growing selection of carnival games and interactive games for all ages, foam parties, Edmonton's only mobile laser tag, face painters and clowns, even ventriloquist acts, and stage shows.
One thing that they do in comparison to other companies is they take care of everything. From helping you plan your event and select the ideal rental items, to the delivery, set up and clean up!
Rest assure that you will rent only the best quality commercial grade inflatable bouncy castles, obstacle course, slides and more. All of their staff are thoroughly trained in their safety policies and procedure.
Highlights
Great customer service
Wide range of services
Perfect for any occasion
10. Enchanted Princess Parties
Enchanted Princess Parties has been in business since 2009. Over the years, they have built a reputation as the best known princess event company in the city.
In comparison to the other companies on this list, there are three main factors why people choose to contact them. Their performers, the costumes, and of course, reliability.
First, all their performers have the talent, passion, and several years of experience working with children. Unlike other proncess companies, their singing characters offer a range from classically trained sopranos to chart topping pop artists.
They are not your usual performers because put an extra effort to make sure that they invest on high-quality costumes and wigs to make it more realistic. Another reason why they stand out in Edmonton is because of their stage makeup where they ensure to look as close as possible to the storybook characters!
As the oldest princess company in the area, some of their staff has been working for them for over 8 years. You can put your trust on them in making your party extra special since they always provide consistent performances ever since they started.
People love them becasuse of their affordable packages that no other companies offer. Some of their packages are Princesses, Mascots, Spiderman, Batman, and so much more! Prices start from $125 + GST
Highlights
Affordable rates
40 plus princess characters to choose from
Specialize in corporate and special events
Responds quickly
Can do virtual parties
11. Sweet Gi's
BEST FOR 
Birthday parties and classes
PRODUCTS
Cupcakes, Cakes, DIY Cookie Kits, Holiday Treats, Father's Day and Teacher Gifts
WEBSITE
https://sweetgis.com/
ADDRESS
8405-24 Street NW Sherwood Park Edmonton, AB, Canada T6P 1L3
CONTACT DETAILS
+1 780-983-0256| 

[email protected]

OPERATING HOURS
Monday: 9:00 AM – 3:00 PM

 

Tuesday: 9:00 AM – 3:00 PM

Wednesday: 9:00 AM – 3:00 PM

Thursday: 9:00 AM – 3:00 PM

Friday: 9:00 AM – 3:00 PM

Saturday: 10:00 AM – 2:00 PM
Sweet Gi's is a baking shop that specializes in catering parties and other similar occasions as well. They are located in the Strathona County and accommodate custom cake orders and classes that will make an average party much more enjoyable.
Known for their high quality customer service, they are a small company but with a big heart for delivering only the best quality of cakes and interrelated service to their clients. They make sure to use only high quality ingredients along with exceptionally accommodating customer service in order to satisfy each customer they come across.
The shop also offers Parties and Cake Decorating Classes at their location which can now hold up to 14 students at a time. Furthermore, customers also have the option should they want to customize the cake to their liking and preferred flavor as well.
We recommend this baking shop for customers looking for a memorable party or experience with cakes and cupcakes as Sweet Gi's is sure to have a package that suits every party and individual need.
Highlights
Excellent customer service
Customizable cakes
Enjoyable and memorable cake decorating classes
12. Elite Mobile Laser Tag
BEST FOR 

Laser Tag

PRODUCTS

Laser Tag Party in a Box, Tactical Laser Tag, Team Building, Youth  Groups, Municipal Events

WEBSITE
https://www.elitelasertag.com/
ADDRESS

Edmonton, AB

CONTACT DETAILS

780-406-6332 |

[email protected]

OPERATING HOURS

Contact for details
Nobody wants to go back and forth between the laser tag arena and birthday party area that is why Elite Mobile Laser Tag brings the game to the celebrant themself.
What's great about them is that they can either deliver the game to you using their commercial-grade mobile equipment for a laser tag experience like you have never had before. Or you can save a few bucks by picking up the laser tags at their office in west Edmonton.
For parties, their rentals are packed with laser tag equipment that can cater to around 8 to 16 players. You may only rent it for a day or even the whole weekend.
Now if you are older and want to play the real deal, they also have tactical laser tag. Metal laser tags here can reach opponents up to 800 feet away!
Highlights
Offers three Laser Tag in a Box Packages

Can add extra time for tactical tag

All rates are on their website
13. Axe Monkeys
BEST FOR 

Axe Throwing

PRODUCTS

Axe Throwing, Rage Room, Mobile Units

WEBSITE
https://axemonkeys.com/edmonton/
ADDRESS

13931 156st, Edmonton

CONTACT DETAILS

780-667-4293

OPERATING HOURS
MONDAY-THURSDAY 2PM–10PM
FRIDAY 2PM–12AM
SATURDAY 10AM-12AM
SUNDAY 12PM–8PM
Axe Monkeys may not seem like your typical go-to birthday place, but it can provide a unique experience that you and your guests will definitely remember. If you're looking for a place that's great for the whole family, it's one of our top picks to have a birthday party in Edmonton.
At Axe Monkeys, you can enjoy the thrill and experience of throwing various items in a competitive but fun environment. All of your invited guests can go head-to-head with each other and see who has the best aim.
If you'd like a more private experience, Axe Monkey has mobile cages so they can bring the fun to you. You and your friends can enjoy throwing axes, ninja stars, and knives in your location of choice!
Their experienced professionals will first teach each individual guest the principles of technique and safety before beginning with some target practice. Only once everyone is familiar with how to throw the objects are they allowed into to the cages and experts are always on-site to monitor the cages.
Highlights
Easy online booking

Time is yours to use however you want

Prices for mobile unit rental are based on the hour per unit

Delivery of the unit is free within 30 miles of the facility
14. Laser City
BEST FOR 

Laser Tag

PRODUCTS
Mini Paintball
Laser Tag
VR Escape Rooms
E-Sports
WEBSITE
https://www.lasercity.ca/edmonton
ADDRESS
5104 67 Ave NW
Edmonton, AB
T6B 3N9
CONTACT DETAILS

[email protected]


(780) 800-4920
Phone hours are 10am to 6pm everyday, plus our Regular Hours
OPERATING HOURS

Wednesday: 4:30pm to 9pm
Thursday: 4:30pm to 9pm
Friday: 4:30pm to 10:30pm
Saturday: 10am to 10:30pm
Sunday: 11am to 7pm

Private bookings available outside of these hours!
Laser City is known for their awesome Laser Tag parties, but that's not all they offer! For this article, we will introduce you to their Mini Paintball Birthday Parties.
If you are a parent and your child will be celebrating their birthday soon, this game is perfect for kids ages 8 to 12. The reason for this is they have smaller guns, paintballs, and slower speeds, perfectly safe for children.
What's great about the area of this game is that you will get your own private indoor paintball field with a staff member that will help you organize. Another reason why we like them is that they provide everything.
And by that, we really mean everything that you will need in a paintball game. From the camo overalls, face masks, paintball guns, and the required paintballs, they got you.
You will definitely not waste a dollar with them and make the special day of your child even better.
Highlights
Can bring outside food
Has a fridge and freezer for drinks and cakes
Mini Paintball parties can have up to 20 players; Laser Tag parties can have up to 36!
15. Studio96
BEST FOR 

Rental Space

PRODUCTS

Event Space

WEBSITE
https://studio96.ca/
ADDRESS
10909 96 St.
Edmonton, AB
T5H 2K4
CONTACT DETAILS
Call Us
780.428.8450

 

Email our Event & Wedding Coordinators
[email protected]

OPERATING HOURS
Contact for more details
Studio96 offers an event space wherein you can do almost all types of events. IF you are planning a huge party for your child, thi may be the rental space for you.
What is nice about this space is its rustic design. This is great if the theme you desire will match the venue.
Another great factor about them is that they can cater up to 200 guests, perfect if you have many relatives and friends.
Their rates are not available on their website since it so;ely depends on your vision of the event. 
Highlights
Available on weekends
Can cater any type of event
16.  Launch Pad
Launch Pad is a trampoline park that offers various fun activities for kids and adults alike all week long. They have recently re-opened with a more enhanced sanitization procedures to make sure as clients have fun on their grounds – they also remain safe and healthy.
It is convenient to book for a slot as their website offers comprehensive forms, waivers and procedures that can easily be done online. Furthermore, they offer a lot of activities and areas to have fun in such as a dodgeball court, a battle pit, and a basketball dunk area among others.
All their activities are very age inclusive, and they have specific rates for adults and for kids as well. Furthermore, they have daily deals and birthday discounts can readily avail of and inquire should they have any questions.
Their rates are reviewed to be a little expensive but the experience in the park greatly compensates it and is then reviewed also to be fairly priced despite it being a bit pricey.
Highlights
Wide range of activities
Accommodates both kids and adults
Enhanced sanitation and disinfection protocols
17. Fitset Ninja
BEST FOR 

Challenging obstacles

PRODUCTS

Training Team




Tricking




Homeschool Ninja Team




Open Gym




PD Day Camps




Birthday Parties




Mobile Obstacle Course




Field Trips

WEBSITE
https://fitsetninja.com/parties
ADDRESS

11511 120 ST, Edmonton, AB

CONTACT DETAILS
780.455.4442


[email protected]

OPERATING HOURS
Contact for more information
Bring out the ninja skills of your child and their friends with Fitset Ninja. At their facility, children will challenge themselves, overcome hurdles, solve problems, and even burn calories.
This may not be your usual birthday party, but we believe that people ages above 5 years old will definitely enjoy it here. You can expect that some of the obstacles they have are from the famous American Ninja Warrior TV show.
You can also make it somewhat of a challenge wherein the first one who finishes the course will receive something beneficial.
Do not worry about your kids when playing as their in-house ninja warrior squad will always be on watch and respond immediately in case there are any accidents.
All of their parties have a 1.5 hour party time and are for 10 party attendees. But if your child has more friends, you can add more slots for $25 per participant.
What's great about them is that they offer no charge for non-participating guests. These may be the parents or guardians of other kids.
Highlights
Includes a party area to eat and open presents

The maximum party size is 25 people (participating and non-participating individuals)

The package has a party host

Can easily book online
18. City Fit Shop
BEST FOR 

Obstacle Party

PRODUCTS

Parties, Classes, Day Camps, School and Groups, Sports Conditioning

WEBSITE
https://cityfitshop.com/
ADDRESS

10036 81 AVE NW Edmonton, AB, T6E 1W8

CONTACT DETAILS
P. (587) 404-0412 | E.

[email protected]

OPERATING HOURS
Contact for details
City Fit Shop is where Ninja Warrior Parties happen. What's great about their facility is that people from ages 4 to 64 can enjoy it.
In order to achieve the maximum happiness of the people who will be attending the party, they, unlike others, customize their program for them. So if it is your child's birthday party, they will make the obstacle course challenging but not to the point that someone may get hurt.
What's great here is that they offer three different types of birthday party packages. Deluxe, Standard, and Basic Ninja Package.
The Basic Ninja Package starts from $149 and this can already cater to up to 20 guests. Also, their staff members will give all the Ninjas loot for their goody bags!
Here, the obstacle course will be available for 90 minutes. Just enough time for your children to enjoy.
Highlights
$15 only per additional child

Also has team building packages

Waivers can be done online
19. Game OVR
BEST FOR 

VR Party

PRODUCTS

Parties, VR escape rooms

WEBSITE
https://gameovr.ca/
ADDRESS
12930 St Albert Trail NW, Edmonton, AB T5L 4H6
CONTACT DETAILS
P. 7809534263 | E.

[email protected]

OPERATING HOURS
Monday: 3:30pm – 8:30 pm
Tuesday: 3:30pm – 8:30 pm
Wednesday: CLOSED
Thursday: 3:30pm – 8:30 pm
Friday: 3:30pm – 10:30 pm
Saturday: 11am – 10:00 pm
Sunday: 11am – 6:30 pm
If you'd like to do something a little different from the usual birthday parties, we'd like to highly recommend Game OVR!
Game OVR is the newest VR entertainment center in the area. Here, they feature the latest in VR technology, have exciting VR escape rooms, and new free roam experiences. 
We love how they bring the best that VR has to offer, and it's no wonder why they're garnered as the highest rated birthday party venue in Edmonton!
We like how they have their prices and inclusions up on their website, so it's easy to choose what you'd like to do before going. 
They also have a variety of party packages with different levels. We think your child will truly have a unique and memorable birthday party at Game OVR!
Highlights
Various party packages

VR entertainment center

Highest rated birthday part venue in the area 
20. Cutiepics Productions
BEST FOR 
Event Parties
PRODUCTS
Photo Booth
DJ Sound System & Photo Booth Package
Event Photo Coverage
(Wedding, Baptism, Birthday and Christmas Party)
New born, Maternity, Engagement, Graduation, Family Portrait Sessions
Summer Tent Rental
Event Decor Set-up and Tear Down
Videoke with Screen & Projector Rental
Balloon Decor
WEBSITE
https://www.cutiepicsproductions.com/
ADDRESS
9223 169 Ave Edmonton, AB, Canada T5Z 1W8
CONTACT DETAILS
780-298-4867 /

[email protected]

OPERATING HOURS
24/7
Cutiepics Production is a company that offers a wide range of photo booth rental packages among many others to better document and preserve memories for special events that the client may need it for.
We like their services are highly extensive and accommodate a wide array of events such as weddings, birthdays, and baptisms among many others.
They also offer customized portraits for clients who are in need of newborn, engagement, graduation, and family photoshoot sessions.
Furthermore, they also offer various equipment rentals such as videoke machines, projectors, sound systems, and photo booths to give events an extra edge in terms of entertainment.
Though we think that their services could use more comprehensive description regarding its inclusions, rates, and terms for the information of clients interested in availing their services.
Highlights
Ideal for any event
Comprehensive and flexible services
Accommodates family portraits for any theme
22.

Escape Hour
Escape Hour is a top rated escape room in the area. They have five different rooms in their Edmonton branch—Five Lives, Bank Heist, Matrix Theme, 5 Elements, Senator's Battle. 
Soon enough, they'll also include two more rooms called Tron Battle and a VR room. 
What we like about Escape Hour is that their rooms, including their intro and after game briefings, are all private. Your group gets to have have the entire experience without having to share the space with other groups. 
We also like how easy they make their bookings. You simply have to choose a date, which room you'd like to play, and the time slot you'd like. You can also see the availability there, as well as the price of the game. 
The only downside with having your party here is that it can only accommodate relatively small groups, with the maximum number in one of the rooms being 16 people. 
Though we think that can also be a good thing and you can have a more intimate celebration with only your closest friends. 
Highlights
Top rated escape room 
Five different escape rooms 
All rooms are private and there's no need to share with other groups 
Easy booking process
Your kid's party will be a success when held at these places. That's because they throw the best birthday parties in Edmonton! You don't even have to worry about goodie bags or party hats when you're at one of these, because the entertainment is already covered!
Are there any great places that we missed, though? Send us a message and we'll update the article promptly.
Oh, and if you're here because you're looking for event planners, our list of the best event planners in Edmonton can probably help you out!