By Olivia Walsh
Need the help of a good notary? You're on the right page, because we're listing the top options for the best notary public in Edmonton.
These notaries public can help you easily get copies of court orders, travel documents and more. They can also notarise your important documents in no time.
We asked around for the best notary public around Edmonton, but came up with the following. These are the ones who should be fastest and best at getting your important papers sorted out.
1.  Document Genie LTD.
First in our list of the best notary services in Edmonton is Document Genie LTD. They have a wide array of services to accommodate different clientele.
With same-day, early morning and late evening appointments available, they offer documents such as travel consents, letters of invitation, personal guarantees, proof of life, statutory declarations, notarised copies of documents, proof of loss, etc.
They translate over 40 languages and attest over 140 different documents, with the quickest turnaround times and fastest revert to your queries. They accept both walk-ins and booked appointments at any time within their sched.
Highlights
Translates over 40 languages
Same-day services available
Walk-ins accepted
2.  Edmonton Notary Services
Edmonton Notary Service delivers documents such as permanent residence applications, affidavits, statutory declarations, oaths, certified true copies and many more.
However, when claiming the documents, they have a list of things you need to get first. Bring a government-issued photo ID (passport, driver's license, and citizenship card).
Their provisions have earned them a place in our list of top options for the best notary public in Edmonton.
Highlights
Walk-ins welcome
No appointment needed
Customer Reviews
Here's what customers are saying about Edmonton Notary Public:
Mike, the gentleman I spoke with, was very knowledgeable about the notarization process. For reasons that I don't quite understand, he was unable to perform the service I required during my first contact with him. However, because he was incredibly knowledgeable and friendly, I contacted him again to solicit his services and will continue to do so in the future. He offers some of the best support I have ever received from any business or organization.
-Anon, ThreeBestRated
Mike is a great guy very helpful and knowledgeable, I have been using his services for the last 4 years.
-Anon, ThreeBestRated
3.  Affordable Notary Services
Next in our list of the best notary public is Affordable Notary Public Edmonton.
Like its name implies, they have budget-friendly services. It's been recognised as one of Edmonton's most trusted notary firms too.
Affordable, efficient, reliable, and professional, they serve their clients in a variety of ways. They also offer discounts for bulk or multiple document tasks!
Highlights
Multiple document discount
Mobile services available
Cost-effective services
Customer Reviews
Here's what customers are saying about Affordable Notary Public:
SJ was very professional and very fast. I called and was able to get all of my documents notarized SAME DAY with only a 5-minute wait. NO APPOINTMENT NEEDED. And he takes CREDIT & DEBIT, which most other places I called to did not! $42 for the first document and $10 for every other document afterwards. I would definitely recommend it.
—Anon, ThreeBestRated
They're actually a law firm. Very professional and polite. I called around asking for prices to get some affidavits signed and most places quoted me $40 and up for first document and $10 thereafter. Mr.Saqib quoted me $30 for the first document and $10 thereafter on the phone and I didn't need an appointment. Very pleased with his service. Mr. Saqib was very polite and courteous. Prices were unbeatable. Highly recommended.
—Anon, ThreeBestRated
4.  The Law Clinic
A law firm in Edmonton, these also offer up notary services to those who are in need of it. They provide notary public services for travel consents, letters of invitation, personal guarantees, and more.
Walk-ins and booked appointments are accepted, and the cost of the service is determined once the lawyer has reviewed your specific needs and the services being requested.
With exemplary provisions and friendly customer service, this firm deserves a spot in the list of the top choices for the best notary public in Edmonton.
Highlights
Walk-ins welcome
Booked appointments accepted
5.  North Central Process Service
Delivering a straightforward, reliable, and cost-effective solution, North Central gives you documents that you need for any legal processing. They also prepare affidavits in support of substitution service by social media and email.
Plentiful recommendations from clients as well as positive reviews are why they're in the list of the best notary public in Edmonton. They also have very affordable rates, if you're concerned about your budget.
Highlights
Accepts credit, debit cards
Affordable rates
6.  My Edmonton Notary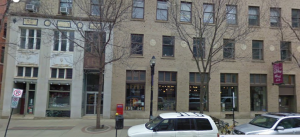 | | |
| --- | --- |
| BEST FOR  | Notary public services |
| PRODUCTS | Certified/Notarized Copies of Documents, Affidavits, Statutory Declarations, Consent to Travel Forms, Loss Passport forms, Invitations Letters, and Out of Province/Country Real Estate documents |
| WEBSITE | https://myedmontonnotary.com/ |
| ADDRESS | 218, 10113-104 Street NW  Edmonton, Alberta T5J 1A1 |
| CONTACT DETAILS | [email protected] | 780-756-0084 |
| OPERATING HOURS | |
My Edmonton Notary earned their spot on this list by providing no-nonsense services to all of their clients. If you're in need of legal documents such as affidavits, proof of Canadian citizenship, travel forms, and so much more, then book an appointment so they can provide your requirements for you.
Their one of the best choices given the great customer service and professionalism of their staff. Not only that, but they're quick to provide what you need, too.
Highlights
No legal advice offered
Rates depend on signatures required
Accepts cash or cheque
Customer Reviews
Here's what customers are saying about My Edmonton Notary:
"I needed to get some documents notarized urgently and my local MLA from Manning advised me to visit this notary public. I had a wonderful experience at the office and I'm happy with their recommendation. Ms Giardino was accomodating and friendly on the phone and in person. Her office is conveniently located right next to Bay enterprise square station. She also charges way less compared to other notaries, and I was advised on phone to bring cash or cheque. I was also given a receipt which included GST. I would definitely visit again, and recommend it to friends and family."
-Faizan Shaukat, Google Reviews
"cash or cheque only, prior to my appointment. The lawyer (and business owner) was extremely professional and friendly. She certified my documents and gave me some really great advice. The cost was as she had estimated so no surprises. I will come here again and recommend this business to my friends and colleagues."
-LA S, Google Reviews
And that completes our list of the top options for the best notary public in Edmonton. These companies can help out with sorting important documents for legal or government needs.
Are there services that we missed? Send us a message and we'll update the article promptly.
Do you want to procure legal services to help you deal with mistakes instead? Here's a list of the best tax lawyers in Edmonton to help guide you through court.