By Noah Murray
A tattoo would be an amazing way to remember special things. Having yourself inked can also be a great experience, especially in terms of establishing your identity. If you want to get a great tattoo, these studios for the best tattoos in Edmonton can give you the best art for your skin.
We've searched high and low for the best shops that give out good inks to their customers. And from studio to studio, we've discovered these choices that have unique designs and great quality for a fine price.
Let's take a peek, shall we?
1. Black Diamond Tattoo Club
When it comes to tattoos, Black Diamond Tattoo Club is the place to be.
Established over forty years ago, the tattoo club is located on Treaty 6 territory and is home to two full-time artists and three additional part-time artists. Aside from tattoo sessions, Black Diamond Tattoo Club also offers piercing services.
What makes Black Diamond Tattoo Club so great?
First and foremost, the artists are highly skilled and experienced. They take the time to consult with their clients and create unique designs that reflect the client's personality and individual style.
The artists are also passionate about their work and take pride in delivering quality tattoos that will last a lifetime.
In addition to the talented artists, Black Diamond Tattoo Club offers a relaxed and comfortable environment.
Clients can expect a friendly and welcoming atmosphere, as well as top-notch customer service. The staff is always happy to answer any questions or address any concerns that clients may have.
Overall, Black Diamond Tattoo Club is a first-class operation with talented artists who take pride in their work. If you're looking for a high-quality tattoo, this is the place to go.
Highlights
Edmonton's first tattoo club.
Forty years of experience
Wide range of body jewelry and body piercing
2. Eye of the Lotus
First in our list of the places with the best tattoos in Edmonton is Eye of the Lotus.
It has a permanent staff of 12 and often gets guest artists. They've always given back to the community too, donating artwork and giving talks in local schools for career days.
Their tattoos are unique and surely make a statement on the customer's body. They also offer piercing services if you want additional holes for your ears or nose.
Highlights
Community-active
Unique artistry
Guest artists are sometimes available
3. Pagan Tattoo
Pagan Tattoo is a studio that is run by a group of independent, master tattoo artists who are all known for their visionary approaches to the craft of tattooing as well as their talent for custom tattoo illustration. The Pagan Tattoo artists have been creating tattoos in Edmonton for a quarter century. Their shop is one of Canada's longest continually operating tattoo studios. In fact, they were frontrunners and pioneers in the New School rebirth of North American tattooing in the 1990s.
Their team at Pagan Tattoo operates the shop as a professional and relaxed environment. They serve various clientele, from serious tattoo collectors to brave souls who are taking the plunge for the first time. Their studio is bright and friendly, and in every session, they make sure to conduct their tattoo work in accordance with all Alberta Health guidelines.
Highlights
Professional and uniquely creative environment
You can choose from various tattoo artists depending on what you want to get
Amazing tattoo illustrations
4. Bombshell Tattoo
Offering both tattoo and piercing services, they provide different art styles for a wide selection of tattoo designs. From neo-traditional Americana to color realism, geometric, contemporary, and pop culture, they can give you any type of tattoo you want.
You can also catch them at charities and conventions. They accept walk-ins for smaller pieces, as well for piercings.
Being one of the choices for the best tattoos in Edmonton, they offer quality every time. You can bet you'll get amazing pieces that draw the eye of the onlooker.
Highlights
Walk-ins available
Different art styles
5. The Fountainhead Tattoo
FountainHead Tattoo has a wide range of styles for people interested in tattoos. Your desire to express yourself is almost as important as the art itself. Whether you want to get an elegant design or something wild, FountainHead Tattoo will always ensure that your tattoo incorporates your personality in some way.
With so many choices available, FountainHead Tattoo offers an all-inclusive experience that includes the whole process from start to finish – letting you know exactly who you're getting a tattoo done by and ensuring that they're extremely talented at what they do and very comfortable working with beginners especially since this might be your first time ever telling someone what you want on your body part!
This is what sets them apart from many tattoo shops and why they're one of the studios to go to if you want to get the best tattoos in Edmonton. From small, minimalistic tattoos to large, complex pieces, they'll be able to craft creative works of art on your skin.
Highlights
Multiple styles
Easily accessible by transit
6. Urge 2 Tattoo
Next in our list of the places for the best tattoos in Edmonton is Urge 2 Tattoo. Their mission lies in the statement of "Life's too short to rock bad tattoos", so you'll be getting the best ones from them.
Take note that they're a cash-only shop, and it's non-refundable, but walk-ins are welcome even if appointments are preferable. The works of their artists have been praised by several customers.
Highlights
7. Pure Imagination Tattoo & Arts Collective
If you're thinking of getting a tattoo, turn to Pure Imagination Tattoo & Arts Collective today. Their team can help you create the design you need before the tattooing session starts. And if you already have a design created, that's fine too! Trust that they have the skills and tools needed to make each session as pain free as possible.
Highlights
Award-winning artists
Health board-approved facility
8. Anker Tattoo's
Anker Tattoo gives you a tattoo tailored to you and what you want. They create a comfortable atmosphere for you to relax and better communicate what you want — which is extremely helpful especially if it's your first time.
Katie Bee and Emily Mosley-Delorme believe that working with their clients is the key to the best tattoos. They will patiently work with you in what you visualize in a tattoo and add their own professional inputs and insights without being intrusive nor overwhelming to make your tattoo the best it can be.
Highlights
Affordable
High Quality
Trustworthy
9. Doing Tattoo
Doing Tattoo has been a staple in the Edmonton tattoo scene for the past 6 years. It is located on Whyte Avenue at The Station on Whyte and is home to a diverse group of artists enabling them to cater to a full spectrum of tattoo designs and styles.
From simple and clean black work, accurate portraiture, colorful Japanese styles to American Traditional, the shop is equipped to meet your specific needs.
Highlights
High Quality
Affordable
Diverse art styles
10. Ritualistics
Since opening in the summer of 1996, Ritualistics Custom Tattoos and Body Piercing has become one of Edmonton's most respected shops. One of the reasons that Ritualistics has been in business so long is our ideals are built around the motto "quality rather than quantity".
They make sure to spend a good deal of time consulting with and listening to our customers so that they are satisfied with the results. They carry strict rules for safety and cleanliness in our shop and use the most up to date methods for protecting our clients.
Highlights
Strict rules for safety and cleanliness
Diverse art styles
Well-established business
11. The Mile Tattoo Studio
The Mile Tattoo Studio understands that getting a tattoo is one of the most important decisions you'll have in your life, and they are honored that you would let them help you in getting something so permanent etched onto your skin.
You can be sure that they take each session seriously and sanitizes all of their equipment regularly. They do not only care about the profit. Instead, they focus on your satisfaction as well as your needs and wants before, during, and after each session.
Highlights
Attentive to your needs
Does amazing retouches
Free consultations and drawings
12. Atomic Zombie
Atomic Zombie opened their doors on January 30 2007. They are committed to showcasing their artistry through designs that range from intricate to simple.
They strive to bring together a community of professional artists and provide a clean and comfortable home for them to practice their art in. As of 2020, they have 8 wonderful and multi-talented artists, 2 wonderful piercers, and an amazing microblade technician.
Highlights
Listens to their clients' preferences
Always puts your needs first
Clean and sanitary facility
13. Kamakazi Tattoos
Looking to add some attitude to your personality? Because that's what they do here in Kamakazi Tattoos, if you're looking to put your lover's name or your favorite person in ink, they do the job as same as any other place, but better.
This premium tattoo studio aims to offer exquisite service, their experienced employees will surely make your tattoo not like any other drawing, but will make it a one of a kind art for you to remember.
Highlights
Wide team of experienced employees who know how to do the perfect job
Over 40 years of combined experience
See to it that all the equipment used are frequently cleaned and well maintained
14. Bear's Skin Art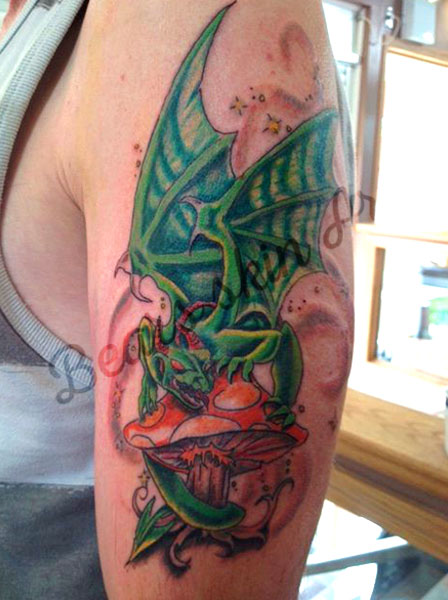 Bear Lamont, the owner and artist of Bear's Skin Art, has been involved in the tattoo industry for decades. His sturdy foundation and his desire to improve his techniques has garnered his shop tremendous support from the community.
From original eye-catching tattoos, to personalized designs from his clients, Bear is ready to master his craft together with his ever growing clientele.
Highlights
Features the artwork and talents of award winning tattoo artists and world class guest artists
Offers traditional, Americana, Oriental, Realism, Black & Gray, custom tattoo work since 1991
15. Rabbit Rabbit Tattoo
Rabbit Rabbit Tattoo understands that getting inked is definitely a big decision since the end result would be permanent. This is why they make sure to ask you specifically what you want and triple check that everything is to your liking before starting.
Rest easy knowing that they follow strict cleaning and sanitizing practices in their studio.
Highlights
Attentive to your needs
Skilled and experienced
Well-maintained studio
16. Odd Tattoo
Chris only does tattooing by appointment only. His specialties are large projects such as sleeves, back, etc., black and gray, color, realism, and detailed tattoos. His current rate is $180 per hour and his day rate is $150 per hour.
He uses only the highest grade and pre-sterilized single-use tools to to ensure their customer's comfort and safety.
Highlights
Offers a safe, clean, and sterile environment
Uses medical grade disinfectant for all of our equipment and stations
Gives aftercare in their website
Has a decade of experience
17. APOCALYPSE TATTOOS INC.
If you are looking for a tattoo studio around Edmonton that can make your dream design come true, then you must check out APOCALYPSE TATTOO!
APOCALYPSE TATTOO INC. prides itself on its excellent customer service, stressing on them being able to cater to your needs by listening thoroughly. They promise to change the stereotypical tattoo experience from intimidating to relaxing and comfortable.
Their services range from simple traditional tattoos to color pop arts, and the catch is that you can contact their tattoo artist directly by checking their portfolio and choosing the best-suited artist to make your design come true!
With flat pricing available and their artists' portfolio, the only thing that needs improvement is their store hours being they are only open from 12:00 PM to 8 PM only on weekdays and by appointment on Saturdays.
Overall, if you are looking for a tattoo studio that gives you options through their wide range of expertise and artists, and a studio that promises to listen to your needs, you have APOCALYPSE TATTOOS INC.to serve you in Edmonton!
Highlights
Wide range of services

Different artists with specialization

Flat pricing and range data available
These studios for the best tattoos in Edmonton can help you express yourself through your body in the most creative way possible. Whether you want something black and minimalistic or those trendy white tattoos, their artists can provide what you desire.
Are there any other great places that we missed, though? Send us a message and we'll update the article promptly.
And if you want to get rid of body hair or stubble before getting great tats, here's a list of the best laser hair removal in Edmonton that can help with that.