By Oliver Tremblay
If your windows need a good scrubbing, washing, and squeegee, you need a great window cleaner to help it sparkle and shine. Fortunately, Edmonton's best window cleaning services will make sure all your panes are spotless!
We've looked for those with an amazing track record among locals. So, if you can't wait, go ahead and see our picks for the best window cleaning Edmonton services.
1.  High Rise Window Cleaners
When it comes to cleaning windows of too tall, too dangerous to clean buildings, High Rise Window Cleaners is the perfect company for the job. As their name suggests, they specialise in cleaning windows of any and all high rise building, from condos to commercial properties.
They're the best choice for the job note only for the their dedication and commitment to get the job done right the first time around. Aside from that, they're also full insured, COR certified, and has cleaners that are IRATA & SPRAT Trained so that you won't have to worry about not getting your money's worth.
Highlights
One time window cleaning
Scheduled window cleaning
Post-construction cleans
Facade cleaning
2. Winducks Gutter and Window Cleaning
BEST FOR
Gutter and Window Cleaning Services
PRODUCTS
Interior/Exterior Window Washing
Gutter & Eavestrough Cleaning
Pressure Washing / House Washing
Christmas Light Installation Calgary & Edmonton
Commercial Cleaning Services
Window Cleaning Cochrane Alberta
Gutter Window Cleaning Edmonton Alberta
WEBSITE
https://winducks.com/
ADDRESS

Edmonton Alberta

Address: 10050 112 st NW Edmonton, AB, T5K2J1

Calgary Alberta
Address: 2111 16a St SW Unit 403, Calgary AB, T2T 4K1

Cochrane Alberta

Address: 430 River Heights Crescent, Cochrane AB, T4C0T9

CONTACT DETAILS

Edmonton Alberta
Phone: (780) 807-8778
Email: [email protected]

Calgary Alberta
Phone: (587) 572-6425
Email: [email protected]

Cochrane Alberta
Phone: (587) 572-6425
Email: [email protected]

OPERATING HOURS

Monday – Friday: 9:00 AM – 11:00 PM

Saturday: Closed

Sunday: 9:00 AM – 4:00 PM
It is never easy to find a cleaning company that can match the way you want your windows clean. Good thing that we were able to come across Winducks.
They are a friendly window and house washing company that sees to it that your window will be squeaky clean once they are done.
Window cleaning is their forte. They clean both interior and exterior windows for commercial and residential properties and to achieve the best results, they employ a variety of tools and techniques.
As they are also worried about the effect of harmful chemicals, they have a squeegee with an eco-friendly solution for interior windows, which is safe for pets and children. They take extra precautions to avoid making a mess by prepping every area for cleaning.
They also never fail to go the extra mile. 
For exterior windows they use a super professional top of the line water-fed pole, which they run through a filtration system to ensure that the windows are spotless and gleaming. For interior they use professional squeegee and scrubbers to give you streak free windows that will look amazing.
It is also impressive that they work with windows as tall as 40 feet and that it is in the pipeline that they are working on getting the certificate and training to work with higher story windows.
Aside from window cleaning, they also offer gutter cleaning, pressure washing, and Christmas lights installations in Edmonton, Calgary and the surrounding areas.
Highlights
Has multiple branches – Calgary, Cochrane, and Edmonton
Has an Annual Window Cleaning Package
Uses eco-friendly solutions
Customer Reviews
Here's what customers are saying about Winducks:
"Nick and his team (in particular Jack) were amazing and very accommodating! Had my exterior windows cleaned and they look so clean! Will definitely use Winducks Cochrane again!" – Terri Flynn
"Q did an awesome job on our windows. He was courteous, professional and just a really good guy. Our windows look fantastic. We'll definitely hire Winducks for our window cleaning again and look forward to utilizing them to have our Christmas lights put up. Thanks Q!" – Deanna Hamlyn
"Nick and his crew were great! We had never got our windows cleaned before and what a difference! They were great to work with- a screen was missed and they came back ASAP to finish it 🙂 The price appeared really fair and they did a really beautiful and efficient job. Will definitely use again." –Rosalyn McAuley
3. CleanPro Windows
As their name suggests, CleanPro Windows specialises on cleaning your windows. They help bring back its shine and transparency whenever they can.
Their team is made up of individuals who are not only courteous and professional when facing clients, but are dedicated to getting the job done.
Highlights
Free estimates
Large service area
Customer Reviews
Here's what customers are saying about CleanPro Windows:
"The crew was prompt and promised a time and showed up early. Fast, effective and extremely clean in their work ethic. Will definitely hire again and I highly recommend these fine young gents. You'll get your estimate via email as they look at your property via google maps. Quite reasonable and inexpensive if you ask me."
-Reaper Reaper, Google Reviews
"The CleanPro team did a great job, they went above and beyond on a very difficult job. Our house had a large accumulation of debree in the gutters and they were very thorough.
Thank you very much."
-Aubyii Rekieh, Google Reviews
4.  Student Suds
First in our list of the best window cleaning Edmonton services is Student Suds. Providing package deals that include pressure wash and even gutter cleaning, they offer a full cleaning of your windows, exterior and interior.
They do year-round housekeeping as well as small business cleaning, providing services around Edmonton, St. Albert, Sherwood Park, and surrounding areas.
Highlights
Package deals
Free estimate
Quick bookings
Customer Reviews
Here's what customers are saying about Student Suds:
We have been using Student Suds now for over 5 years for window cleaning services. They do great work from beginning to end of each job. We have been extremely happy with our window cleaning each year. Student Suds also keeps things clean and organized during the cleaning and makes sure things are in good order before they leave! very happy with their service.
-Anon, ThreeBestRated
Student Suds has been cleaning my apartment monthly for several years and every worker has done an excellent job every time. I have observed Jason, the owner, train several new workers in my home. He always ensures they know what to do and how to do it correctly.
-Anon, ThreeBestRated
5.  Heights Residential
Next in our list of the best window cleaning Edmonton services is Heights Residential. Specialising in residential window cleaning, they offer exterior and interior window washing for a full window cleaning service.
Their services are hassle-free and no appointments are necessary to book for a cleaning. Services are available around Edmonton, Sherwood Park, St. Albert, and surrounding areas.
They also offer services for hanging up Christmas lights for the holidays.
Highlights
Free quote
No appointment necessary.
Satisfaction guarantee
Customer Reviews
Here's what customers are saying about Heights Residential:
I have used Heights for window cleaning and could not be happier. It has been about 3 years I have used their service and always have a positive experience. The staff is very helpful and polite. I would recommend Heights for window cleaning as they are professional, prompt, and my windows look amazing. Never have I had any problem with their service.
-Anon, ThreeBestRated
Excellent work. Completed the booking for work all online, no phone calls needed for anything. Paid online even! Workers showed up when they said they would and did a fantastic job…coming from an OCD person too! Will definitely use again! Very reasonably priced!
-Anon, ThreeBestRated
6.  All Clean Property Services
Next in our list of the companies for the best window cleaning in Edmonton is All Clean Property services. Serving residential and commercial areas alike, they do window cleaning, gutter cleaning, and an array of other work.
If you're in a hurry to get the windows wiped off, they have a response rate of 48 hours.
As well as having great customer services, there are monthly, yearly, and bi-yearly reminders provided for commercial services.
Highlights
48-hour response rate
Free quotes
Customer Reviews
Here's what customers are saying about All Clean Property Services:
Was extremely pleased with the service provided for cleaning my gutters. my calls were returned promptly, an estimate was provided the same day, the price was reasonable and the quality of the work done was excellent. I will definitely be using this service again! Thank you, Patrick!
-Anon, ThreeBestRated
The team answered my original request for a quote quickly and gave me a firm price. My siding was very dirty! They came on time and did a great job, cleaned up after themselves and their price was below any of the other companies in the area. Great job
-Anon, ThreeBestRated
7. Off The Ledge Inc.
Off The Ledge is a locally owned and operated building maintenance company that specializes in window cleaning of condominiums, businesses, and high-rise towers. With over 15 years of experience servicing Edmonton and the surrounding area, the OTL team has become a leader in the industry and an expert in access. They also hold a COR safety certificate with all of their rope access technicians being IRATA trained and certified as they adhere to the highest safety standards in the industry. 
Off The Ledge regularly, and continually, focuses on developing long lasting relationships with their clients while delivering the highest quality professional service at an affordable price. Their 100% satisfaction guarantee and customized offerings ensure all of their customer's expectations are exceeded. 
We recommend this company for clients who are looking for professional, reliable, and dependable window cleaning services. On top of this, they have repeatedly proven to complete jobs safely and efficiently.  
Highlights
COR Safety Standard
IRATA Rope Access Technicians
Highly experienced in the industry
Customer Reviews
Here's a review from one of Off The Ledge's clients:
"I highly recommend the service at Off the Ledge. They arrived punctually, acted professionally, and finished on time. With reasonable rates and great service I would definitely use them again and encourage others to give them a try for themselves."
Here's another one:
"I contacted the company for a quote, and a very professional and friendly Cody responded immediately. He sent me a written quote within 24  hours, after coming to the house to assess the job. He made an appointment according to my schedule, and sent me reminders in advance – checking that it was still a good time for me. His crew showed up promptly on time for the cleaning job and impressed my family with how courteous, professional and tidy they were. The fee for the job came in under the quote.We were all grateful and SO impressed with the customer service. I highly recommend this company. Thank you!"
8. Paneless Window Cleaning Inc.
Paneless Window Cleaning has been serving the greater Edmonton area – St. Albert, Sherwood Park, Fort Saskatchewan, Leduc and Red Deer – since 1994. They provide an exceptional quality service, done safely and with great attention to detail every time. They consider themselves to be leaders and pioneers in the Edmonton Window Cleaning industry.
Their staff is extensively trained, certified and specialize in window cleaning, pressure cleaning and eavestrough cleaning for both residential and commercial properties.
They're passionate about Window Cleaning in Edmonton and take great pride in our work (see Gallery). If you're not 100% satisfied, we'll come back and make it right within 24 hrs.
Highlights
They understand the importance, and value their customers' time
Over our 20 years in business, they have built a reputation on providing the highest quality service with the greatest attention to detail
Guarantees a safe, efficient and exceptional quality service
Customer Reviews
Here's a review from one of Paneless Window Cleaning Inc.'s clients:
"Our sister in law won a giveaway for window cleaning and very kindly gave it to us to use on our new home! Chris and Krista were very responsive, kind, and had their employee Kevin come out to us as soon as possible. Our homes looks visibly brighter 🙂 Thank you all so much!"

Here's another one:
"Our Condominium Corporation has used Paneless Window Cleaning since 2004. Their focus on customer service, building relationships, and quality work set them above other companies. We would highly recommend Paneless Window Cleaning to any organization that values quality, professionalism and promptness."
9. Capital Windows and Snow
Capital Windows and Snow does interior and exterior cleaning to make sure your ledges and window panes are clear as day. They offer full packages and commercial packages for those who need a full cleaning.
With a specialty in residential and commercial services for window washing, snow removal, and gutter cleaning, you're sure to get great cleaning services from Capital. Their all-around cleaning services make them some of the best window washers in Edmonton.
Highlights
Accepts credit, debit cards
Open to all
Customer Reviews
Here's what customers are saying about Capital:
Really pleased with the service we had from the two gentlemen who came to clean our windows. They washed them inside, then outside and then even came back indoors to make sure they looked good from the inside out. Anywhere a touch up was needed, they did it.
-D.H., Yelp
My wife and I had our windows cleaned on our two storey home in June 2019. Two very personable students from Grant MacEwan showed as appointed Monday morning, worked hard and did a sparkling job on the windows. Ticked all of the boxes and then some.
-Dick W, Yelp
10. Men in Kilts
Men in Kilts is a franchise that offers all-around cleaning. From windows to gutters, they'll provide great services whether it's in a residential or commercial area.
And that's along with 6-days-a-week availability, package deals, and technicians that are fully insured!
They can clear out gutters or eaves of rocks, dirt, leaves or grime. With a great track record among customers and amazing deals, the've earned a spot in the list of the best gutter cleaning services in Edmonton
Highlights
Package deals
Fully insured
Free estimates
Customer Reviews
Here's what customers are saying about Men in Kilts:
Easy booking. The crew showed up on time and completed the requested tasks. House siding looked great after and windows looked great. Crew went above and beyond to help remove a stubborn stain from one part of the siding. Finished work very efficiently and the price was within reasonable difference from the over the phone quote. Would recommend Men in Kilts.
-Anon, ThreeBestRated
Another great job by the same cleaner as last year. I've been having MIK clean my windows for a few years and love how professional and efficient they are.
-Anon, ThreeBestRated
11. West Edmonton Window Cleaning Inc.
BEST FOR
Low Rise Window Cleaning
PRODUCTS
https://wewc.ca/
WEBSITE
https://wewc.ca/
ADDRESS
19067 72A AVENUE NORTHWEST, EDMONTON, AB, T5T 5S9, CANADA
CONTACT DETAILS

780-481-4988 |

[email protected]

OPERATING HOURS
9:00 am – 6:00 pm (Monday to Thursday)
The service that West Edmonton Window Cleaning, Inc. offers its client is founded on three principles. First is that the safety of their cleaners is important at all times. Second is that quality work should be provided to all clients. And third is your property will always be valued and treated with utmost care.
This is why it's only expected that their cleaners are fully trained in all matters related to window cleaning and ladder safety. Not only that, but they're prepared to go above and beyond to bring back the shine of every window on the property.
Highlights
Covered by liability insurance
All employees trained in Ladder and Fall Protection safety
Customer Reviews
Here's what customers are saying about West Edmonton Window Cleaning, Inc.:
"We have never had our windows professionally cleaned before. The two man crew did an excellent job, exterior and interior, in cleaning all of our windows. The windows shine now. They also cleaned some of our clogged eves troughs that needed cleaning due to the fallen leaves. They did an excellent job in removing the debris and checked to make sure the water would drain correctly from the eves trough. Excellent!!!! Highly recommend to anyone out there that want clean windows or eves troughs in the Edmonton area. Tanner and Tyler are very professional and polite to the client.
Thank you again to West Edmonton Window Cleaners.
Retired Training Officer with the City of Edmonton"
-Paul Marsh, Google Reviews
12. Eclipse Window Washing
No window surface will be left unwashed if you leave it up to Eclipse Window Washing to get the job done. Every cleaner of theirs is careful throughout the entire process, ensuring not only their safety but your satisfaction as they always aspire to get the job done right, so you'll have very little to worry about alongside clear, shining windows.
Highlights
Streak-less cleaning outcomes
13. Alliance Window Washing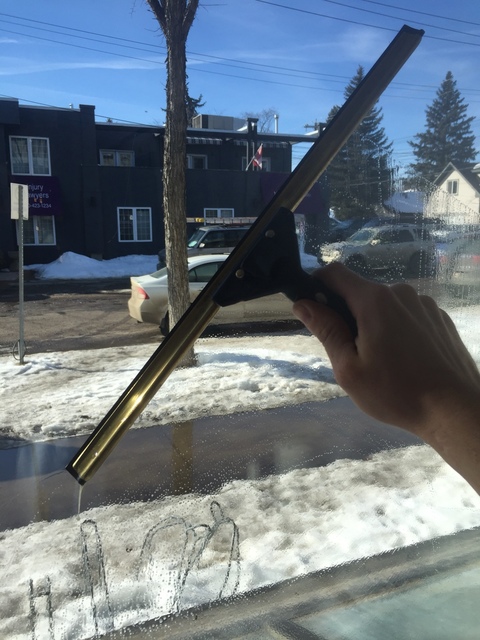 Alliance Windows Washing is all about establishing connections within the community — something that can only be done by friendly faces who can get the job done properly the first time around. This is why every cleaner at Alliance Windows Washing takes great care into scrubbing every surface of your windows to bring back their natural shine.
A great bonus that comes with hiring Alliance Windows Washing is that they offer 7 Day Rain Guarantee. This is applicable if up to 10 windows get dirtied by the wet weather immediately or after a few days after the cleaners at Alliance Windows Washing have completed the job. This is done free of charge.
Highlights
Free quotes
Offers Seniors and Storefront discounts
Customer Reviews
Here's what customers are saying about Alliance Windows Washing:
"Prompt arrival and excellent job cleaning gutters and washing exterior windows on our house and our neighbour's house."
"Quality work , reliable service, and professional experience. Alliance Window Washing is awesome and I am so glad I found them to help keep our windows clean throughout the year."
"Signed into homestars, and got a very quick response from 3 contractors. My daughter suggested I try this site. Alliance was the first to respond, as my daughter had already used them, it was a good choice. Was very professional, pleasant, and easy to communicate with. Good choice."
14. Rise & Shine Cleaning Co.
Rise and Shine offer their services to help you clean up windows, if you can't find the time to clean up windows. They offer plenty of services for both commercial and residential areas, such as high-rise window cleaning, power washing, and the like.
They offer several cleaning services as well, and seasonal cleanups and snow removal for residential areas, with janitorial services for commercial spaces. Their commitment to convenience is what makes them a go-to for window cleaning
Highlights
Bird removal
Scheduled cleanups
Seasonal cleanups
15. Death to Dirt
Death to Dirt is a locally owned company in Edmonton. They have been providing professional window cleaning, gutter cleaning, and pressure washing services since March 2017.
Their staff is committed to paying attention to little details in order to satisfy their customers. Their company also offers insurance in case anything happens.
Highlights
Company is fully insured

Workers go the extra mile

Expert team
Customer Reviews
Here's a review from one of Death to Dirt's clients:
"I have used the services of Death To Dirt two times in the past two years. One in the home I sold and one on my new build! My windows were absolutely to the point where you couldn't see out of them with construction dirt on them. When I called Jared he said they would still be able to do the windows even though the ground around my house was all different levels to stand on. When I got home from work and walked in my house I had to physically walk up to the windows to see if the glass was actually in the window! You couldn't tell their was a window even there! It was absolutely incredible the terrific job he did on cleaning them. There wasn't one spot on them!They were so efficient in communicating with me. When I booked on Groupon they responded immediately to book an appointment time, and their communication with me was on Par. He did not do my basement level windows, as my rough grade hasn't been completed on my house yet, and so he told me to call him once it's completed and he will come back and do my basement windows at no extra fee. I would highly recommend them to anyone that needs windows cleaned. I will definitely use their services every spring – I am so pleased with their service!!"
Here's another one:
"Jaret and his team cleaned all my windows of my two story building and left them looking brand new. They cleaned the exterior, interior and screens. Everyone was friendly and polite as they took care in ensuring they did not damage any items nor furniture that was in their way. They were quick and provided feedback on windows that may have been damaged or weren't installed very well. I highly recommend this service and will be using them on a routine basis."
16. Roman Exteriors and Maintenance
Roman Exteriors & Maintenance prides themselves in being the property care service one can depend on. They offer services for both residential and commercial spaces and can handle both the interior and the exterior of the place.
Ever since 2015, the company has been serving customers from areas in and around Edmonton and Calgary. Indeed, their amazing relationships with their clients have been possible through years of outstanding professional work.
Highlights
Meticulous, delicate work
Honest and fair cost
Always on time
Customer Reviews
Here's a review from one of Roman Exteriors & Maintenance's clients:
"Roman exteriors and maintenance did an excellent job on our gutters and windows! It was spotlessly clean. These guys are professional and will do an extra mile for their services. A friend recommended them to me and I'm passing them on. Best value for money!"
Here's another one:
"Top notch company. Had them do some landscaping for me in the summer and called them back for Christmas lights this winter. They set up the lights exactly how I wanted and took them down last week when I called them. All done at a very fair price."
17. Shine Above Windows and Gutter Cleaning
Shine Above Windows and Gutter Cleaning is the newest addition to the Mosaic Home Services Group of Companies. Shine Above was born from the collaborative nature of their management teams and based on their commitment to providing the best selection of services to home and business owners.
People prefer them because they always strive to understand the needs of their clients. With their extensive experience, you can guarantee that you will get the best cleaners in town.
What makes them unique from other companies is that they only use environmentally-friendly products. This means that your family and pets will be safe when the cleaners use these products.
They offer their services in Edmonton, Spruce Grove, Sherwood Park, St. Albert, Fort, and Beaumont.
Highlights
Payment through VISA, Mastercard, or American Express
Complete exterior cleaning services
Safety accredited
Customer Reviews
Here are some reviews from Shine Above Windows and Gutter Cleaning's clients:
"Fantastic window cleaning!!! Very professional. Safety conscious while completing our work inside & out on a very windy day. Gordon was tidy during and after his work and was detailed to get every corner. He was super friendly and even helped to dust a hard to reach place next to a window. Best recommendation: windows so clean that the dogs tried to walk through the window because they couldn't see it! Highly recommend!"
"Friendly staff and professional"
And that's it for our list of the best window cleaning Edmonton services. You can get your windows cleaned in no time with their exemplary staff.
Is there a service that we missed? Send us a message and we'll update the list!
If you need more suggestions for window washing services, by the way, here's another list of the best window washers in Edmonton. Whether you pick from that list or this one, though, you'll be sure to find cleaners you can trust.