If the LCD on TV has been busted, then don't delay in calling over the companies that do the best TV repair in Edmonton! These electronics repair shops have been praised by many locals for their ability to repair electronics like TV screens easily.
You won't need to waste hundreds of dollars on a new 70-inch flatscreen TV when these guys can repair it. Today, we'll show you the ones that we think can be of most service.
Come check them out!
1. Dial An Appliance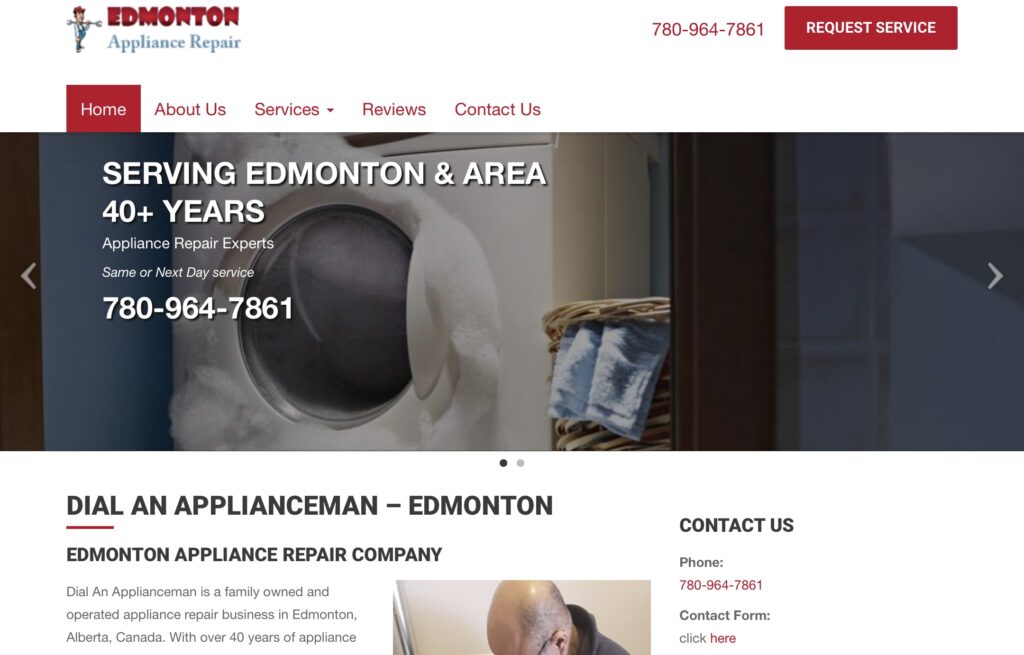 | | |
| --- | --- |
| BEST FOR  | TV Repair Services |
| PRODUCTS | Dishwasher Repair, Dryer Repair, Freezer Repair, Refrigerator Repair, Stove Repair, Washer Repair, Garburator Repair, Faucet Repair, and Appliance Installation |
| WEBSITE | https://www.dialanapplianceman.com/ |
| ADDRESS | 14524 115 Ave NW, Edmonton, AB T5M 3B9, Canada |
| CONTACT DETAILS | 1-780-964-7861 |
| OPERATING HOURS | Monday – Friday: 8:00 AM – 6:00 PM; Saturday: 9:00 AM – 4:00 PM; Sunday: Closed |
Dial An Applianceman has proven their mettle through top-notch services, unparalleled convenience, an impeccable reputation, and reasonable costs. Our experience with them left us nothing short of impressed.
When it comes to services, Dial An Applianceman is a cut above the rest.
Their skilled technicians possess an uncanny ability to diagnose and fix TV issues with surgical precision, ensuring every pixel is brought back to life. No problem is too complex or too trivial for their expert team.
Convenience reigns supreme with Dial An Applianceman.
They know time is of the essence and offer prompt and efficient service. From scheduling appointments to arrival on-site, their professionalism is unmatched.
With their streamlined process, they take the hassle out of TV repair, allowing you to sit back, relax, and enjoy your favorite shows again in no time.
Reputation is the cornerstone of their success, and Dial An Applianceman's name is synonymous with excellence.
Countless satisfied customers have raved about their exceptional service, praising their reliability and trustworthiness. They've built a loyal clientele that swears by their expertise, earning them a sterling reputation.
While quality comes at a price, Dial An Applianceman offers cost-effective solutions without compromising on the standards.
Their transparent pricing structure ensures you receive the best value for your money. They believe in fair and reasonable charges, ensuring you don't feel like you've been taken for a ride.
However, they can get very busy during peak hours. We recommend booking an appointment ahead of time.
Highlights
Expert technicians
Prompt and efficient service
Stellar reputation
Reasonable pricing
2. National Home Helper
You don't have to go through the hassle of searching for handymen. National Home Helper has an expansive directory of handymen all over the globe, including providers for the best TV repair in Edmonton.
Just leave them your details, and they will find a provider for a reliable service provider for your job requirement.
The providers they find go through a thorough screening process, so they can make sure that they recommend you only those that are the best at their job.
They find the best service providers in the world and compile them into one directory. They do this so they can connect you to a reliable handyman in Edmonton for any repair job.
Highlights
Prompt and timely services
Customer service is their priority
No added charges or hidden fees
3.  ProService Electronics
As one of the go-to choices for the best TV repair in Edmonton, Proservice checks your TV and makes a solid assessment before getting to work. What's more is that they're an authorized service centre for Samsung, Hisense, Sharp, Viewsonic, and Dyson repair.
So if you own any of these brands, rest assured, you won't get knock-off replacement parts. They also service different types of electronics such as computers, monitors, printers, and vacuums.
Whether there's a major or minor issue with your TV, they'll thoroughly assess and replace parts that have been fried for a fraction of the typical repair cost. This has made them a quality shop for great repairs that many Edmontonians love.
Highlights
Authorized service center for multiple brands
All kinds of electronics serviced
Cost-effective pricing
Customer Reviews
Find out why customers enjoy this place:
Positive: Professionalism
Had fabulous service during COVID, they were taking all the precautions making me feel very safe, then when I picked up my TV after repairs once again it was excellent service and they communicated with me after the diagnosis so that I was always in the know.  I would definitely use their service again.
—Aline Colameco, Google Reviews
10/10 service, no complaints at all. Staff very friendly and were willing to stay open a bit past close for me to drop off and pick up my TV, which was awesome. They provided me a quote very quickly, was just a matter of waiting for the part. Price for the repair was great and TV is working like a charm. Will 100% be using ProService again, highly recommend.
—Danny, Google Reviews
4.  Danny Electronics TV Service
Danny's Electronics is also a good pick for TV repair in Edmonton for their accessible, high-quality services.
Diagnostic fees are around $30, but overall the TV repair fee varies based on your TV, equipment size, model number, brand name, parts defective, parts stock availability, as well as how difficult it is to fix.
They do in-home repairs, so if you're too busy to drop by their downtown location, you can just give them a call. With experience of 25 years, these certified technicians can get your TV running again.
Their affordable services are something you need to see for yourselves. Plenty of locals recommend their work on electronics too.
Highlights
In-home repairs available
Fully licensed
Cost-effective pricing
Customer Reviews
Find out why customers enjoy this place:
Awesome. Back light went out on my TV. $700 dollars to buy a new one, fraction of that price to repair. Reasonable diagnostic charge. Excellent communication throughout the process. Repaired within reasonable amount of time. Gave tips on how to extend the life of back lighting when I picked the unit up after repairs. Helped me load it into the car and showed me how to transport it properly… apparently I had been doing it wrong. Would recommend 10/10. Thanks, Danny.
—Rob McCormick, Google Reviews
Danny did an incredible job replacing frayed electrical cords on some expensive LED Worklamps that I use frequently. He replaced them seamlessly with cords that are more heavy duty than from factory. He was very courteous and has very reasonable pricing. I'm extremely satisfied with his work and would highly recommend him to anyone seeking general electrical repairs.
—Adrian, Google Reviews
5.  M S J Electronic Services Ltd
Next in our list of the companies that offer the best TV repair in Edmonton is MSJ Electronic. They've fixed TVs, stereos, VCRs and many other electronic appliances for more than 30 years.
Whether the services are in-home and in-store repairs, they'll give accurate, fair assessments as well as good fixes. What's more is that they specialize in repairs for all types of televisions including high definition, plasma, LCD, LED and projection screens.
They're even an authorized repair centre for brands such as Samsung, Phillips, JVC Emerson, RCA, Sylvania, and Sony. They also offer non-warranty services on other brands such as Proscan and Toshiba as well.
Highlights
Industry veteran
In-home repairs available
Authorized repair centre for many brands
Customer Reviews
Find out why customers enjoy this place:
Positive: Professionalism, Quality, Responsiveness, Value
Offered free advice on my problem,  promptly looked for my part(s), stayed late so I could come pick it up. All staff was courteous and professional. Plexiglas partition at the counter  and staff wore facemasks for the protection of the public. Outstanding!
—Darcy Muhlbeier, Google Reviews
I live an hr out of the city and geek squad contracted them out. They completely replaced my LED screen on my 65″ LG. Amazing work TV works great. I would recommend to anyone the excellent customer service… 1 trip out they had all the parts!! Excellent work guys!!
—Steven Juhasz, Google Reviews
6.  Sterling Electronic Repairs
Sterling repairs all brands of televisions including LCD, plasma and LED. They repair boards, amplifiers, stereos and many other electronic devices.
With their straightforward, no-frills approach, everything goes smoothly at this place. They have cheap diagnostic prices, as well as repairs that have put them on this list as the best TV repair in Edmonton.
They carry a variety of parts for your electronics and more. Just give them a call and they'll help you with whatever issues your TV is dealing with.
Highlights
Cheap diagnostics
Variety in parts
Industry veteran
Customer Reviews
Find out why customers enjoy this place:
brought my samsung curved tv here today was greeted at the door by the owner and he helped me carry the tv inside. 50$ for a diagnosis ( cheapest place i have found) very friendly service
—derrick carnie, Google Reviews
This is an amazing place for electronic parts. Sure it's a bit messy, but you never know what you might find hidden away with all of the neat stuff. Since Radio Shack and Active Electronics are long gone, this is the only place where you can find those old style parts for repairing your equipment. Anu is very helpful and friendly, and this store has plenty of character like stores used to have before the cookie-cutter starbucks type establishments took over everywhere.
—epeasant, Google Reviews
7.  Electronic Analyst
Electronic Analyst is a good place to drop off your electronics, especially your TV, for repairs.  They provide efficient service and electronics repair work at a competitive price in a prompt manner.
With their experience of 30 years, you know that they have what it takes to fix your electronics. They can even fix a whole theatre system… and your microwave oven as well.
They also do electronic restorations from floods or fire, and they're an authorized parts dealer for Panasonic and Sharp.
They also have services and parts for more than 40 leading electronic brands including Bose, Cambridge, Audio Pulse, Cerwin Vega, Kenwood, Yamaha, Sound Dynamics, Sanyo, Mission, Fisher, Harman Kardon, Infinity, Toshiba and more.
Highlights
Affordable rates
Wide range of brands serviced
Industry veteran
Customer Reviews
Find out why customers enjoy this place:
I brought in my 7 year old home Theater system for repair.  Mike was able to get it going and gave me tips on lengthening the life of all electronics.  Mike went above and beyond to get it up and running.  The service exceeded my expectations!  Thank you Mike 🙂
—Doris Stapleton, Google Reviews
It's so peaceful and pleasant to visit here. I would love to recommend this place to my friends.
Thanks
—Manjot Srawn, Google Reviews
These companies offer the best TV repair in Edmonton, so don't delay in calling them when your TV is busted.
Are there any services that we missed, though? Send us a message and we'll update the article promptly.
If you also need fridge repair done, by the way, the companies that do the best fridge repair in Edmonton can provide those instead. Check out that other list if you need such services too.